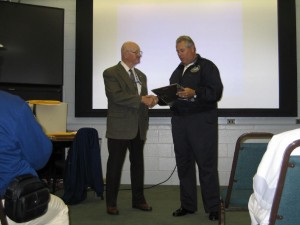 As an early pioneering helicopter pilot since 1949 and renowned expert on aerial application of insecticides from a helicopter you have greatly contributed to the advancement of rotary wing flight.
Dr. Voss aviation experiences started in the early days of World War II, where he served proudly as a US Navy Aviator, flying multi-engine seaplane and patrol aircraft. In 1959 he formed his own company, Ag-Rotors of Gettysburg, PA., acquiring a used Bell Model 47B helicopter. Ag-Rotors today carries on the fine traditions started by its founder. Throughout his life long association in aviation, Dr. Voss has received numerous recognition from US and foreign government agencies, Federal Aviation Administration, manufacturers, and his peers in the industry. In 1995 he was recognized by the Twirly Birds, and the award states " In recognition of his outstanding contribution to vertical flight as a pioneer helicopter pilot", and in 2001 Dr. Voss received the Lawrence D. Bell Memorial Award that " Honors and individual for outstanding service to the civil helicopter industry.
"Dr. Carrol M. Voss, retired CEO of AgRotors, Inc., is the recipient of the Helicopter Association International's (HAI) 2000 Lawrence D. Bell Memorial Award. This award will be presented February 13, 2001 at HELI-EXPO 2001 in Anaheim California, during HAI's 40th annual "Salute to Excellence" awards ceremony.
"In the helicopter pioneering days, Joe Mashman attached a ground duster to a Bell Model 30 airframe and demonstrated the first use of aerial dusting by rotary aircraft. Bell subsequently manufactured a specific agricultural machine — the Model 47B-3, which included spray equipment. Carrol Voss, World War II veteran, flying boat instructor, pilot, and entomologist, saw the potential for agricultural application by helicopter. His commercial helicopter work dates from 1949. "Carrol Voss earned a Ph.D. in economic entomology from the University of Wisconsin in 1949. That same year, Dr. Voss received his helicopter pilot license at Lakehurst, New Jersey. His vision of the helicopter as an ideal machine for agriculture work was recognized two years later, when he proved the effectiveness of aerial seeding by helicopter in a Bell 47 to the U.S. Forest Service and some very skeptical farmers in California. In 1954, he moved to New England and worked for a helicopter service, where he approached vegetable farmers and fruit growers, promoting aerial application by helicopter.  "In 1958, he founded AgRotors, Inc., near Gettysburg, Pennsylvania, where its corporate headquarters are still located today. The company's first helicopter was a Bell Model 47B, serial number 3. Between then and 1985, Dr. Voss flew 9,000 hours of agricultural work. Orchard spraying was a relatively new field for helicopters. AgRotors led successful agricultural spray programs in conjunction with Penn State University, various fruit growers, and a handful of entomologists. The company specialized in research with state and federal government agencies and universities to improve aerial application technology for safer and more efficient pest control. Today the company operates a fleet of 18 helicopters. "Dr. Voss devoted much of his time as an international consultant on insect control by aerial application. This has included projects for the World Health Organization, the World Bank, the U.S. Agency for International Development, and the Food and Agricultural Organization in India. These days, Dr. Voss dedicates his time to the preservation of helicopter history by displaying his aviation memorabilia and several restored helicopters at various museums across the U.S., including a Bell 47D-1 at New York City's Museum of Modern Art. He is a frequent speaker on the use of helicopters in agriculture and has published many professional papers on the subject.
"Sponsored by Bell Helicopter Textron, the Lawrence D. Bell Memorial Award was established in 1971 to salute excellence in management leadership. The award is granted to an individual who is recognized for long and significant service to the civil helicopter industry.