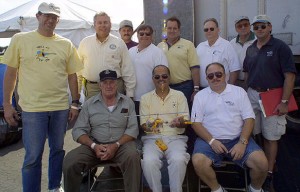 THIS EVENT WAS THE DEBUT OF THE BELL 47 HELICOPTER ASSOCIATION. UNDER THE DIRECTION OF PRESIDENT CHARLIE HOLLINGER & VP JACK KELLY THE FOUNDATION WAS LAYED. TALK OF GROWTH WAS ON THE MINDS OF MANY. SO, JOEY RHODES FROM THE MIDWEST WAS APPOINTED MEMBERSHIP DIRECTOR.
SPECIAL THANKS TO THE AMERICAN HELICOPTER MUSEUM'S ANN BROWN FOR ALLOWING US TO APPEAR.
THE BELL 47D1 DEMO WAS FANTASTIC, AS THERE WERE NO CORNERS CUT BY PILOT CHARLIE HOLLINGER.