ROTORFEST 2005 (528 MEMBERS) HOSTED BY JOEY RHODES DANNY RODRIGUEZ, JACK KELLY, NEAL TOLER, JEFF JANKOVICS, & KERRY EISENHAUR. DEMO PILOT TERRY INCH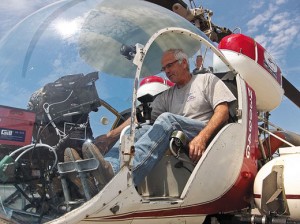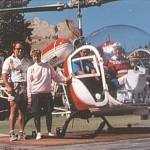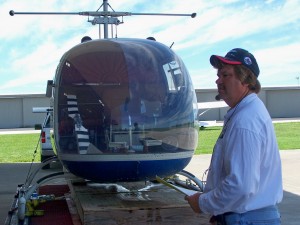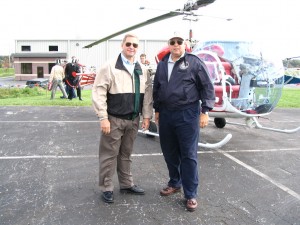 THE EVENT WAS WELL ATTENDED BY B47HA MEMBERS. PRESIDENT JOEY RHODES ANNOUNCED FIVE INDUCTEES INTO THE HALL OF FAME WHICH HIGHLIGHTED THE DAY'S EVENTS. SCOTT, CHURCHILL, BRUCE SCHILTZ, AL BROUSSARD, NEAL R. TOLER (PIC-L), & DON MAGUIRE WERE HONORED BY A CERTIFICATES AND T-SHIRTS THAT HAD THEIR NAME IMPRINTED ON THE BACK. A SPECIAL GOLD MEMBER AWARD WAS PRESENTED TO NIC HERTELENDY (PIC-R) OF HRA ASSOCIATES.THIS YEAR WE HAD 4 VINTAGE BELL 47 HELICOPTERS TAKE PART. SPECIAL THANKS TO JACK KELLY FOR BRINGING THEIR D1'S.
JAY MUNDIS ARRIVED IN HIS ROY ROGERS G4 AND ROBERT GRESS BROUGHT HIS BELL 47 RARE H MODEL.TERRY INCH PROVIDED THE BELL 47 DEMONSTRATION BOTH SATURDAY AND SUNDAY.A TRUSTEE'S MEETING WAS HELD AND SEVERAL RESOLUTIONS WERE PASSED AND ADOPTED. NEAL TOLER PROVIDED A WALK AROUND INSPECTION OF A BELL 47.
THE OFFICIAL SPOKESMEN FOR B47HA "THE WHIRLYBIRDS" PROVIDED TWO SHOWS TO SOLD OUT PERFORMANCES AND SIGNED AUTOGRAPHS UNTIL THEY EXHAUSTED THEIR POSTERS. THE WHIRLYBIRDS ARE A TREAT TO WATCH ESPECIALLY WHEN THEY ARE INTRODUCING THE BELL 47 TO THE YOUNGER GENERATION.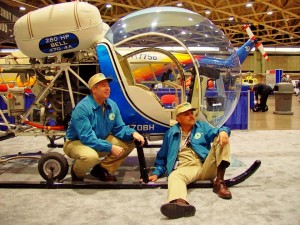 JEFF JANKOVICS AND KERRY EISENHAUR PROVIDED ADVENTURE STRIPS AND COMPUTER SIMULATIONS.
VENDORS, BELL HELICOPTER (PIC-L), HRA ASSOCIATES "COMPOSITE BLADES," AND JACK CARSON (PIC-R) OF HELICOPTER SPARES MADE BRIEF REMARKS TO THE AUDIENCE.
BELL 47 OFFICERS AND TRUSTEES
NEAL TOLER, JEFF JANKOVICS, JOEY RHODES, DANNY RODRIGUEZ, KERRY EISENHAUR, JACK KELLY.
THE B47HA CEO CONCLUDED BY STATING THAT MANY GREAT THINGS LIES ON THE HORIZON FOR B47HA AND SOME WILL CHANGE AVIATION HISTORY. RHODES STATED THAT MANY PEOPLE ARE EAGER TO SEE THE BELL 47 GO BACK INTO PRODUCTION, IF SO B47HA WOULD FIND THEIR ROLE IN THE AVIATION COMMUNITY VITAL TO IT'S SUCCESS.
ADDITIONALLY, B47HA HAS BEEN NOTED FOR STOPPING BOGUS PARTS AND SALES. RHODES STATED INVESTIGATORS OUR PRESENTLY WORKING ON MAINTENANCE CENTERS AND ASSURING THAT OWNERS ARE AWARE OF THE DANGERS THAT MAY BEFALL THEM UNLESS THEY RESEARCH THE BUSINESSES' PRACTICES AND MAKE SURE THEY ARE NOT LISTED ON THE B47HA VENDOR REVIEW PAGE. THIS YEAR ALONE OVER $44,000 CASH WAS RECOVERED AND PARTS DELIVERED.
RHODES STATES THAT BHT HAS ANNOUNCED THAT B47HA HAS BEEN INVITED TO ATTEND AND BE PART OF THE BELL HELICOPTER TEXTRON HAI DALLAS DISPLAY. RHODES EXCLAIMED, " THERE HAS BEEN A CHANGE AT BHT WITH SHANE EDDY TAKING OVER FOR CAREY BOND. I AM PLEASED TO ANNOUNCE THAT SHANE HAS CONFIDENCE IN B47HA TO SHARE THE STORY ABOUT THE 47 AND IT'S ROOTS."