WELCOME TO ROTORFEST HOSTED BY THE AMERICAN HELICOPTER MUSEUM LOCATED AT BRANDYWINE AIRPORT IN WEST CHESTER, PA.
2014 ROTORFEST (702) MEMBERS HOSTED BY JACK KELLY. DEMO PILOT JACK KELLY
 It was another Great Event at Rotorfest 2014 , but unfortunately the weather kept a lot of people away. Except of course, for Guy House and George Kilpatrick who once again arrived in Guy's D1 Helicopter.
Also B47HA member Eugene Nock, who unfortunately is having his engine overhauled,  arrived with his Bat Copter on a Trailer along with Batman, Robin, the Bat Mobile, and Bat Cycle. 
Although Jack was able to drive  to Rotorfest on Saturday he was not able to fly over the hill from Lancaster until Sunday due to the weather.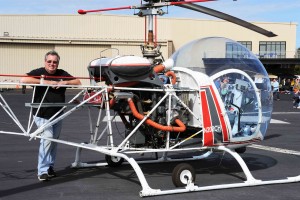 Due to the FAA restrictions, Kelly flew his D1 202 CH around the pattern ,so that really limited demo flights. However, Rotorfest did allow a Vietnam Re Enactment by the Army Sky Soldiers in their Huey and  Cobra Helicopter.