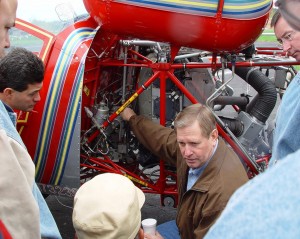 B47HA EVENTS OCCUR AROUND THE COUNTRY AND FOSTER FELLOWSHIP AMONG BELL 47 OWNERS, OPERATORS, PILOTS, AND MECHANICS.
EACH B47HA MEMBER IS ISSUED A IDENTIFICATION CARD TO PRESENT TO OTHER MEMBERS.
B47HA STRIVES TO INTRODUCE THE HELICOPTER TO A NEW GENERATIONS. AT MANY EVENTS, YOU WILL SEE MEMBERS, OR OUR SPOKESMEN "THE WHIRLYBIRDS" HAVE CHILDREN & TEENS SIT INSIDE OUR PRISTINE BELL 47 HELICOPTERS. WE ALSO SHARE THE LEGACY OF THIS FANTASTIC HELICOPTER WITH THEM.