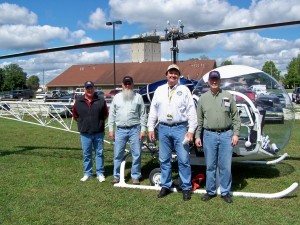 GREAT NEWS FROM B47HA'S JAHN LUKE: 8th Annual "Rotors Over Mentone" event  that will take place on Saturday, Aug 26th at the Lawrence D. Bell Aircraft Museum in Mentone, IN.  Details can be found at:  http://www.bellaircraftmuseum.org/ . 
Our guest speaker will be Phil Marshall from Dayton, OH, who served as a a US Army Warrant Officer helicopter pilot in the
Vietnam War. Phil plans to describe some of the missions flown by helicopter crews during  Vietnam as well as talk about his own personal experiences flying an unarmed Huey medevac helicopter.
Johnny Walker and his American Huey 369 folks will again be attending this year. If we could get a couple Bell 47s or possibly some Bell Jet Rangers to attend that would be great.
WE ARE ASKING MEMBERS & FRIENDS TO MAKE A GIFT OF A CHECK IN ANY AMOUNT TO HELP B47HA WITH OUR EXPENSES. B47HA 28931 BRINK RD. SHATTUC, IL. 62231. THANK YOU
RENEWALS ARE $30 PER YEAR. IF A MEMBER EXCEEDS A 4 YEARS LAPSE IN MEMBERSHIP THEY MUST REJOIN WITH THE NORMAL $125.00 GIFT LEVEL. GOOD NEWS! YOU CAN NOW PURCHASE ONLINE.