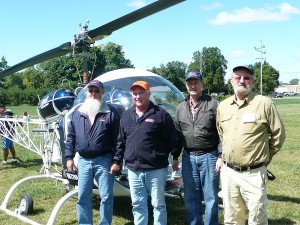 11th Annual "Rotors Over Mentone" event. The event took take place on Saturday, Sep 12th at the Lawrence D. Bell Aircraft Museum in Mentone, IN.  Details can be found at:  
http://www.bellaircraftmuseum.org/
 .
"Rotors Over Mentone" Fly-In event celebrated the rich history of the city of Mentone, Indiana. The guest speaker was R. J. Hill.
Johnny Walker and his American Huey 369 appeared and gave membership rides.  We also will had Cleveland Helicopter Service on hand offering rides in a Robinson R44 or Enstrom model and other helos on display.
Regards,