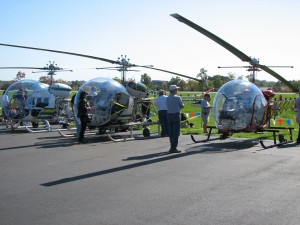 ROTORFEST 2008 (650 MEMBERS) HOSTED BY PRES JOEY RHODES & ECD JACK KELLY. DEMO PILOT TERRY INCH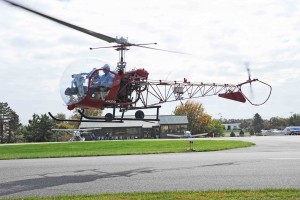 ROTORFEST 2008 WAS ONE OF THE BEST. B47HA SAW FOUR PRISTINE BELL 47 HELICOPTERS ATTEND. BELL47 D1-GUY HOUSE, BELL 47 G4-JAY MUNDIS, BELL 47 G3B1-CHARLES COSENZA AND NICK SEGINA'S BELL 47D1 FORMERLY OWNED BY JACK KELLY. TERRY INCH WAS AWARDED A LIFE GOLD MEMBERSHIP FOR HIS CONTRIBUTION IN DOING THE HELICOPTER DEMOS AND RECOGNIZED FOR HIS PREMIER FLIGHT SCHOOL, DUTCH COUNTRY HELICOPTERS. PRESIDENT RHODES PRESENTED TWO BELL 47 TRIBUTE SHOWS IN THE AMERICAN HELICOPTER MUSEUM AND NARRATED INCH'S AIRSHOW.
MANY MEMBERS RENEWED AND NEW MEMBERS JOINED. SEVERAL TESTIMONIALS WERE PRESENTED AND ONE MEMBER STATED HOW B47HA'S JOEY RHODES PERSONALLY RETRIEVED $5000 FROM A SCAM ARTIST FOR HE AND HIS WIFE AFTER THEY TURNED TO B47HA FOR HELP AFTER AUTHORITIES GAVE UP. RHODES WENT ON TO ANNOUNCE THAT THE WAR ON BOGUS PARTS WAS COMING TO A CLOSE AND THE IMMEDIATE EFFECT OF QUALIFIED AND DOCUMENTED PARTS SHOULD WORK IT WAY INTO THE REMAINING 47S.
THE #1 QUESTION IS – WHY THE 47 IS NOT IN PRODUCTION WHEN THEIR IS SO MUCH RECIP BUSINESS OUT IN THE MARKET. MANY PEOPLE WILL SPEND ALOT OF TIME VOICING HOW OTHER MANUFACTURERS FALL SHORT OF WHAT A PRESENT BELL 47 DELIVERS AND I SIMPLY REMIND THEM THAT EVERYTHING IS POSSIBLE AND I LOOK FORWARD TO SOMEDAY DISPLAYING A NEW BELL 47."
KERRY EISENHAUR DEBUTED THE NEW WHIRLYBIRDS ADVENTURE EPISODE "FOR WHOM DAS BELL TOLLS." THE EPISODE IS NOW ON YOUTUBE.