ROTORFEST 2009 (661 MEMBERS) HOSTED BY PRES JOEY RHODES & ECD JACK KELLY. DEMO PILOT TERRY INCH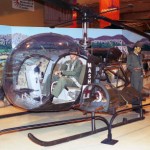 ROTORFEST 2009 SAW SOME SAD DEVELOPMENTS FROM THE GET GO.
FIRST, THE NEWS THAT GUY HOUSE HAD GONE DOWN IN THE POCONOS IN HIS D1 WITH GEORGE KILPATRICK ON BOARD. GUY DID A GREAT JOB AND HE AND GEORGE SURVIVED THE AUTO. GUY'S MASTER FLIGHT INSTRUCTOR HIGHLAND HELICOPTER'S DAN OOT WAS COMPLIMENTED BY THE CROWD WITH APPLAUSE WHEN PRES. RHODES POINTED TO HIS INSTRUCTION AS A REASON FOR THE SURVIVAL.
SECONDLY. NEWS ARRIVED THAT CHARLIE HOLLINGER PASSED AWAY.
THIS YEAR WE MOVED OUR TABLE INSIDE TO BE NEXT TO THE NEW MASH 47 DISPLAY…. WHICH WAS EXCELLENT. THE TRAFFIC WE HAD WAS HIGH QUALITY AND AFFORDED PRES. RHODES THE OPPORTUNITY TO VISIT WITH OUR MEMBERS IN A MORE PEACEFUL AND LESS INTRUSIVE SETTING. MANY MEMBERS COMPLIMENTED B47HA FOR THE ACCESSIBILITY TO RHODES THIS YEAR.
AS USUAL, TERRY INCH PERFORMED A TEXTBOOK DEMO AND BROUGHT A VERY NICE DISPLAY OUTSIDE TO REPRESENT HIS FLIGHT SCHOOL. THREE BELL 47'S ARRIVED, MEMBERS CHARLIE COSENZA AND NICK SEGINA HAD THEIR G3B1 AND D1 THERE. A G2 WAS PRESENT AND WE THANK MALCOM FOR BRINGING IT. PRES. RHODES PERFORMED TWO THEATER SHOWS AND SPOKE TO THE CROWD OF THOUSANDS. RHODES ANNOUNCED THE BELL 47 EXPO FOR JUNE 19TH AND REVEALED THAT AN ANNOUNCEMENT WAS FORTH COMING FROM BHT CONCERNING THE 47.
SPECIAL THANKS TO TRUSTEES JACK KELLY AND KERRY EISENHAUR FOR THEIR HELP. ALSO B47HA APPRECIATED THE KINDNESS OF AHM'S SEAN AND SHERRON. FINALLY, KUDOS TO DAVE SCHULTZ FOR KEEPING EVERYTHING ENJOYABLE AND SAFE.