Mentone event
It was a great event. Please post!
Weather was great for the 13th Annual "Rotors Over Mentone" event that took place on Saturday, September 10th at the Lawrence D. Bell Aircraft Museum with hundreds in attendance.
Main attraction for the event was the recently restored 1957 Bell 47J Ranger (N2838B) named "Lucy" owned by Flyin' Brian Walsh, who was the also the "Rotors" program guest speaker. A radio announcer for Oldies 101.1 WOIE and station owner covering Fort Wayne and Warsaw, Indiana markets, Brian Walsh is also a helicopter pilot. Assisting Brian was his chief mechanic, Seth Hostetler who flew the aircraft to the Museum from Warsaw Municipal Airport. Flyin' Brian refers to Seth as his "Autopilot", helping him with events and maintaining the aircraft.
During the 11 am program, Brian spoke on how he was introduced to aviation, his broadcasting career, his family, and his interest in helicopters. He also talked about how he found out about this particular Bell 47J and that it had been actually used on the Whirlybirds television series. The Whirlybirds series ran over the airwaves from 1957 through the early 1960s. The aircraft was owned at that time by National Helicopters out of California and used on occasional to transport Lucille Ball and Desi Arnaz who owned Desilu Productions. In addition to producing Whirlybirds, Desilu produced other well-known television shows such as I Love Lucy, The Andy Griffith Show, and later Star Trek. Brian named his helicopter "Lucy" in honor of the TV comedian, Lucille Ball. The Whirlybirds television series used the Bell 47G-2 Trooper and the Bell 47J Ranger which inspired many to become helicopter pilots.
Other program participates included Dave Meredith who gave the invocation, the American Legion Post 49 Color Guard from Warsaw, and select band members of the Tippecanoe Valley High School (TVHS) under the direction of Janell Riner whch played our national anthem. Before Flyin' Brian spoke, Museum Board Vice-President Brian Iddles asked veterans in attendance to stand so they could be recognized for their service to our nation.
Later in the afternoon, B47HA member Jeff Jankovics and Bill Lee gave a special presentation about the RC Bell 47 helicopter that they brought with them from North Carolina. Jeff further talked about the Whirlybirds television series (the actors, the real pilots and helicopters used), showed some short Bell 47s clips from Hollywood movies (including N2838B) and some of the Bell 47 simulations he has created.
Rides were offered by Cleveland Helicopter Services in their Enstrom 280FX which kept busy for most of the day. American Huey 369 was also on hand giving membership rides in their Bell UH-1H starting early afternoon. Lutheran Air and Parkview Samaritan hospital helicopters were able to stop in for the event. Crews were able to stay a little while to allow attendees to get up close and to answer questions. Oldies 101.1 WOIE broadcasted Live for most of the event. Food and drink were offered by the Museum. Admission and parking were free. The Lawrence D. Bell Aircraft Museum is a member of the Bell 47 Helicopter Association.
Regards,
Jahn Luke
Photo 2: (l to r) Brian Walsh, Seth Hostetler, Bill Lee, Jahn Luke, Jeff Jankovics & Tim Whetstone (Bell Aircraft Museum) with Lucy
Photo 1: Bell 47J Ranger N2838B
Photo 3: Whirlybirds / RC Bell 47 Presentation by Jeff Jankovics & Bill Lee at Bell Museum
Photo 4: Whirlybirds RC Bell 47G-2 next to Lucy (courtesy of Jeff Jankovics)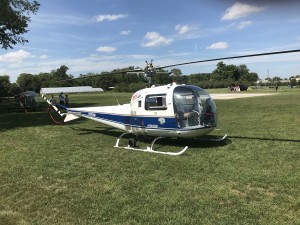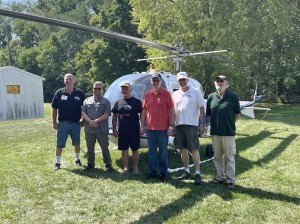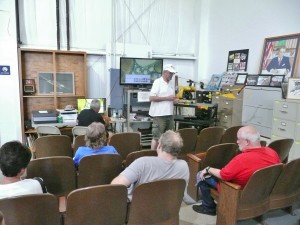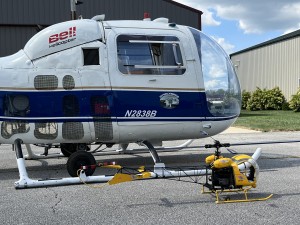 B47HA Sanctioned Event.